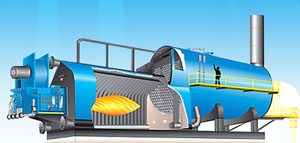 If you are looking for a complete line of quality boiler water treatment chemicals, we can help you. You can depend on us to provide you with superior products and services you need for a successful treatment program.
PMC formulates a wide range of product from multi-purpose products for small boiler systems where a "one drum" approach is required, to larger systems that require separate products to ensure optimum performance.
With increasing energy costs, deposits and other inefficiencies must be eliminated. Our boiler water treatment programs incorporate modern Ter-polymers, to ensure optimum scale and deposit control. PMC also provides oxygen scavengers, return line treatments neutralizing and/or filming, dispersants, one drum blends, boiler blends, alkalinity builders and cleaners

PMC HAS BOILER WATER SOLUTIONS THAT WILL WORK FOR YOU
To support our customers PMC offers a complete problem-solving service in the treatment of Boiler water circuits. This service covers everything from consultancy and analysis of specific needs through to trial studies.
For any enquiries or further information on the products and services we offer, please contact us at 1-800 668 0946.