The objective of a successful cooling water treatment program is to extend equipment life and maintain efficient heat transfer. Effective heat transfer in Cooling Systems is essential.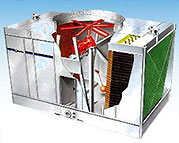 We at PMC know that a variation in the type of cooling system requires specific treatments to eliminate scaling, corrosion, deposition and bio-fouling.
PMC incorporates the latest scale and corrosion technology in designing products to fit a variety of water qualities.
COULD MY COOLING TOWER HAVE LEGIONELLA?
Legionella is the name given to a group of bacteria which can infect water systems. Legionnaires disease is a severe respiratory infection that can cause serious complications and possibly death. Our water management programs include regular bacterial testing and Legionella testing.
Cooling systems offer an optimal potential for growth of algae, fungi, molds, slime-forming organisms and bacteria. These "unwelcome guests" can be controlled with a proper PMC Biocide program.
WE MAKE PRODUCTS FOR SMALL SYSTEMS TO CRITICAL HEAT TRANSFER SYSTEMS.
PMC HAS COOLING WATER SOLUTIONS THAT WILL WORK FOR YOU.
To support our customers PMC offers a complete problem-solving service in the treatment of cooling water circuits. This service covers everything from consultancy and analysis of specific needs through to trial studies.
For any enquiries or further information on the products and services we offer, please contact us at 1-800 668 0946